Dental Treatment in Turkey: A Comprehensive Guide to Finding Affordable and High-Quality Care
Are you interested in learning more about the cost of dental treatment in Turkey? We are just a phone call away to assist you with all your dental needs. For a more detailed analysis, you can fill out our online consultation form or contact us for more information.
From cosmetic dentistry to oral surgery, Turkey has become a top destination for dental tourism. In this article, we will explore everything you need to know about dental treatment in Turkey.
What Makes Turkey a Popular Destination for Dental Treatment?
Turkey has become a popular destination for dental treatment due to its combination of affordable prices and high-quality care. Dental treatments in Turkey are generally 50-70% cheaper than in Europe and the United States.
This is due to the low cost of living and the competitive pricing strategies of Turkish dental clinics. However, lower prices do not mean lower quality. Turkish dentists are highly qualified and have a strong reputation for providing excellent care to patients.
Types of Dental Treatments Available in Turkey
Turkish dental clinics offer a wide range of dental treatments, including:
Cosmetic dentistry or aesthetic dentistry is a popular option for patients seeking to improve their smile. Turkish clinics offer a variety of cosmetic treatments such as teeth whitening, veneers, and dental implants for people seeking for a set of new teeth in turkey:
Dental Veneers Treatment In Turkey
Dental veneers are a popular cosmetic dental treatment used to improve the appearance of teeth that have been damaged, discolored or misaligned.
They are thin shells of porcelain or composite resin that are custom-made to fit over the front surfaces of teeth. Veneers can correct chips, cracks, gaps and other minor imperfections in the appearance of teeth.
Teeth Whitening Treatment In Turkey
When it comes to dental treatments in Turkey, teeth whitening is one of the most popular procedures. Teeth whitening can help you achieve a brighter, whiter smile and make you look more attractive.
And with the wide range of professional teeth whitening services available in Turkey, it's easy to find an affordable and high-quality option that fits your budget and needs.
Dental Implants Treatment In Turkey
Orthodontic treatment is available for patients who need to correct misaligned teeth. Turkish clinics offer traditional braces, clear braces, and invisible aligners.
Traditional Braces Treatment In Turkey
When it comes to finding affordable and high-quality dental treatment in Turkey, one of the most popular options is traditional braces.
Traditional braces have been used for many years and are effective at correcting misaligned teeth. They are also relatively affordable compared to other orthodontic treatments and can be found in a variety of shapes, sizes, and colors.
Clear Braces Treatment In Turkey
Clear braces are one of the most popular orthodontic treatments in Turkey. They offer a discreet and comfortable way to straighten crooked teeth, as well as providing an aesthetically pleasing result.
Clear braces use brackets made from clear plastic or ceramic material that blend in with your natural teeth color. The brackets are attached to the front of each tooth using adhesive and connected using a thin wire.
Invisible aligners are one of the most popular types of dental treatments available in Turkey. They offer an affordable, discreet, and effective solution for straightening misaligned teeth without the need for traditional metal braces.
Invisible aligners are also known as clear braces, and they consist of a series of custom-made trays that fit over your teeth like a mouthguard. 
Oral Surgery Treatment In Turkey
Turkish clinics provide a range of oral surgery procedures such as wisdom teeth removal, dental implants, and gum surgery.
Dental implants are a popular and effective treatment for replacing missing teeth. In Turkey, dental implants are widely available and can be obtained at an affordable price.
The cost of dental implants in Turkey is generally lower than what you would pay for the same procedure elsewhere in Europe or North America. For example, a single implant may cost approximately 300-1000 EUR in Turkey, compared to 3, 500 EUR or more in some other countries.
Gum surgery is a type of dental treatment that can be used to treat and prevent gum disease. This type of procedure can help reduce the amount of bacteria in the mouth, improve gum health, and reduce the risk of tooth loss. Gum surgery is typically done by a periodontist, who specializes in treating and preventing diseases of the gums and supporting structures of teeth. In Turkey, a number of clinics offer gum surgery at an affordable price.
Turkish clinics offer general dentistry services such as fillings, root canals, and oral hygiene treatments.
When it comes to dental treatment in Turkey, fillings are one of the most common procedures. Fillings are used to repair cavities and other minor damage that occurs to teeth. In Turkey, fillings are typically made from either composite resins or amalgams (silver filling material). The type of filling used will depend on the size and location of the cavity, as well as your budget.
root canals Dental treatments In Turkey
Root canals are a common dental procedure used to repair and save damaged teeth. They involve removing the soft, inner core of the tooth (the pulp) which is made up of nerves, blood vessels and connective tissue, and replacing it with a filling material. This prevents further infection from occurring in the tooth and preserves its structure and strength.
When considering root canals in Turkey, it is important to choose a clinic with experienced dentists who use modern equipment and techniques. The cost of root canals in Turkey is typically much lower than what you would pay for the same procedure elsewhere in Europe or North America.
When it comes to finding high-quality and affordable dental care in Turkey, there are plenty of options available. From basic oral hygiene treatments like teeth cleaning and scaling, to more complex procedures like root canals and crowns, Turkey has a wide variety of dental clinics and hospitals that offer top-notch services at competitive prices.
What to Expect When Receiving Dental Treatment in Turkey
Patients can expect to receive high-quality care in Turkish dental clinics. Most dentists in Turkey speak English, so communication should not be a problem. Patients will be provided with a treatment plan outlining the recommended procedures and associated costs.
The treatment plan will also include an estimated duration of the treatment. Patients can typically receive their dental treatment within a week or two, making Turkey an ideal location for dental tourism.
Here are some advantage of getting dental treatment in turkey : 
There are no additional costs for dental treatment in Turkey.
Master Of Dent provides all-inclusive dental travel for its patients, including Panoramic X-Ray, 3D Tomography, Oral Examination, dental products, laboratory costs, dentist fees and injections.
Receive complimentary accommodation when booking dental treatment in Turkey.
We are offering free accommodation in our designated hotel for a week, including one single room and breakfast. The hotel is located close to the coast. 
Book your dental treatment in Turkey and receive free transfer services.
Our patients benefit from our free VIP transfer services, which include airport, hotel, and clinic transfers.
Accepted methods of payment for your dental treatment in turkey : 
Payment is accepted in Euro, USD and Turkish Liras – cash or credit card. Discounts are available for cash payments while no commission or discount applies to card payments. Payments must be received at the end of each appointment per our policy.
Debit cards can be used in ATM machines, however some UK Banks may charge fees and have limits on foreign ATM withdrawals. If using an ATM in Turkey, it is recommended to contact your bank and inquire about increasing the daily limit.
How to Find a Reliable Dental Clinic in Turkey
Finding a reliable dental clinic in Turkey is crucial to receiving quality care. There are several ways to find a reputable dental clinic in Turkey:
Research online to find reviews of Turkish dental clinics. Check out the clinic's website and look for information about the dentist's qualifications, the clinic's accreditation, and the clinic's policies on sterilization and infection control.
Ask for recommendations from friends or family members who have received dental treatment in Turkey. They may be able to recommend a reliable dental clinic based on their personal experience.
Contact a Medical Tourism Agency
Medical tourism agencies can help patients find reliable dental clinics in Turkey. These agencies can provide transportation, accommodation, and other logistics for patients for an additional cost. Contacting us directly will not incur any additional fees compared to a medical tourism agency.
Tips for Making Your Dental Treatment in Turkey a Success
Here are some tips for making your dental treatment in Turkey a success:
Plan your trip ahead of time to ensure a smooth experience. This includes arranging transportation, accommodation, and scheduling your dental appointments.
Verify the Clinic's Accreditation
Verify the clinic's accreditation to ensure that it meets international standards of care.
Communicate effectively with your dentist to ensure that your treatment plan meets your expectations.
Follow Post-Treatment Instructions
Follow your dentist's post-treatment instructions to ensure a successful recovery.
Dental treatment in Turkey offers patients an affordable and high-quality alternative to traditional dental care in Europe and the United States. With a wide range of treatments available and highly qualified dentists, Turkey has become a popular destination for dental tourism. By following the tips outlined in this article, patients can ensure that their dental treatment in Turkey is a success.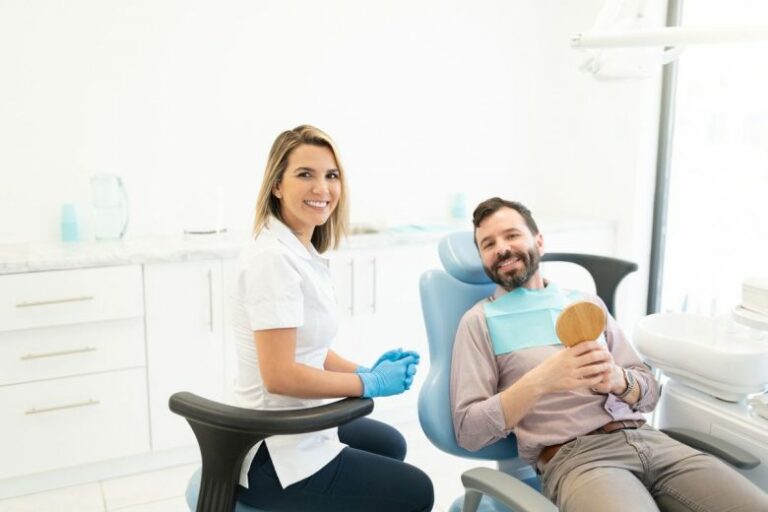 Get Your Free Online Consultation. Give us more details about your needs, so we can find the perfect dentist for you. Phone + 1 315
Read More »