Zirconia Crown in Turkey: What is Zirconia Crown? Are Zirconium Crowns Good ?
Zirconia Crown In Turkey: 
Have you ever heard of zirconia crowns and wondered what it is? Are these crowns the same as those made of traditional materials such as gold or porcelain? Does it have advantages to going with this form of dental restoration over the others?
Zirconia crowns are a type of modern dental restoration. This material was developed in 2002 in Germany and has become increasingly popular in dentistry worldwide. It's quickly becoming one of the most requested procedures in Turkey, and there are several reasons why this is the case.
This article will provide an overview of zirconia crowns and the benefits to this form of dental restorations. We'll go into detail about the pros and cons to these procedures, how long they last, their cost compared to other types of restorations, and what type of care is necessary for optimal results in Turkey. By equipping yourself with this information, you can make an informed decision on whether zirconium crowns are right for your needs.
Book a Free Online Consultation
If you are in need of a bright and confident smile, dental crowns in Turkey could be the solution for you. Learn more about the available options to find what works best for your situation.
Dental crowns provide a good solution for covering a visible yellow and malformed tooth. Master Of Dent offers high-end and branded dental crowns at reasonable prices compared to other local clinics. Patients have the potential to save up to 70% on their treatments. If anyone has any queries or worries, please do not hesitate to get in touch.
Get your aesthetic and natural-appearing crowns today at a competitive price. We will discuss your expectations and provide guidance from a clinical perspective to achieve the desired aesthetic outcome.
Zirconia Crowns in Turkey:
The popularity of zirconia crowns in Turkey has increased due to their high strength and durability as well as the aesthetic appeal they offer. The material's natural translucence mimics the appearance of natural teeth and is virtually indistinguishable from real enamel.
Zirconia Crowns in Turkey are a commonly used type of dental crown owing to their aesthetic properties and mechanical strength. They can be applied to both front teeth, as well as more load-bearing molar teeth.
At Master Of Dent, our dentists and dental technicians collaborate to quickly produce Zirconia crowns in turkey, at our in-clinic dental lab. This lab is fitted with the latest 3D design and milling technology.
Zirconia can be prepared in 3 different forms;
Zirconia Veneers
Zirconia Crowns
Monolithic Zirconia Crowns
In addition to being aesthetically pleasing, zirconia crown is also long-lasting. The material is highly resistant to staining and wear, making it a great choice for those who want a lasting smile.
E max crowns are also becoming increasingly
Zirconia Crown in Turkey provide aesthetic changes to your smile and have light transmittance and strong structures for an optimal appearance.
Zirconium Crowns Before and After: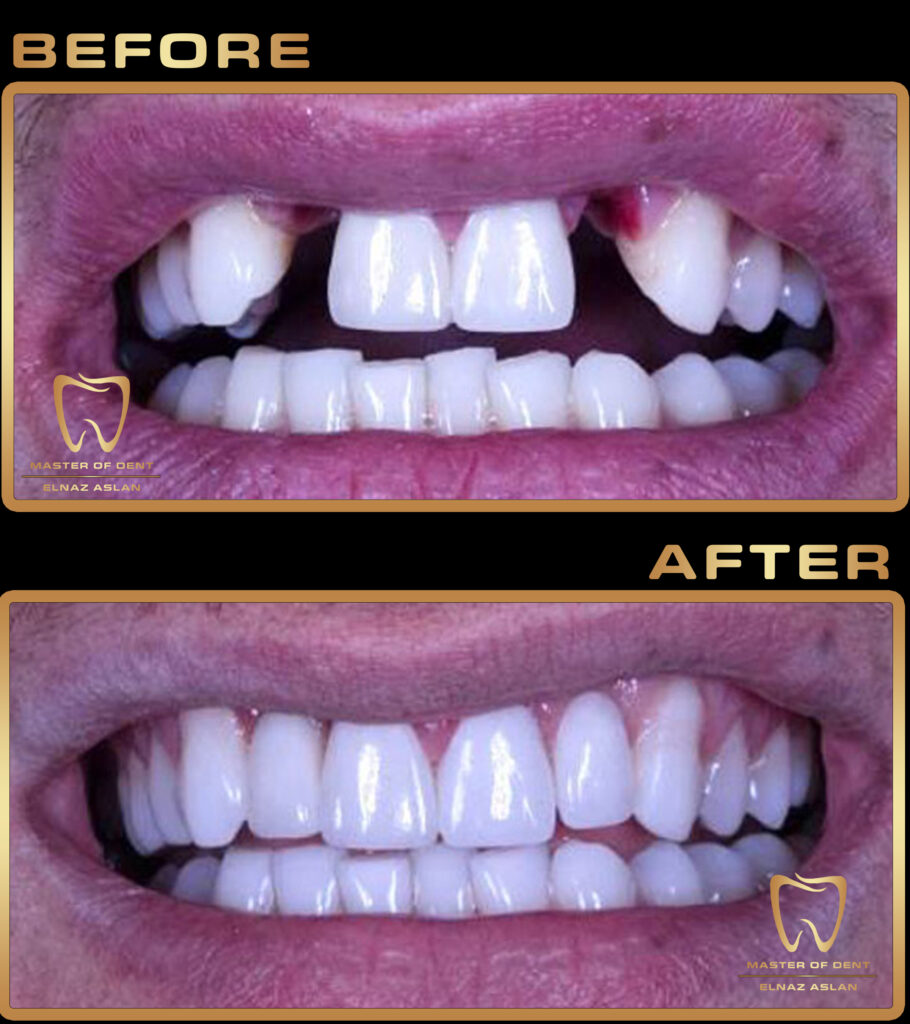 Zirconium dioxide is a naturally occurring silicate mineral compound that becomes stronger when yttrium and aluminum are added. It has multiple applications, including dentistry, prosthetics for hearing and orthopedic devices. Research indicates that this mineral has lasting properties and compatibility with the human body.
Zirconia is safe for those who have allergies, as well as having an unchanging appearance. Additionally, it has resistance to forces from eating and greatly improves the patient's quality of life.
Biocompatible materials such as plastic biodent, metal and porcelain are all commonly used for tooth coatings. Porcelain has become increasingly popular in recent decades, making it a widespread choice.
Metal used as a basis for porcelain tooth coatings can cause allergic reactions in some individuals, and may also result in gingival bruising in the anterior teeth area, potentially causing aesthetic issues.
In the 1990s, extensive research was conducted on full ceramic reinforced porcelains. However, without a supportive infrastructure material, the use of only ceramics for dental bridge applications has not had satisfactory results.
The use of zirconia material as a replacement for metal infrastructure allowed for the improvement of its properties and increased aesthetic appeal in comparison to metal infrastructure.
Zirconia is used as the base material in dental coatings that cover the visible part of teeth near affected areas.
Zirconia tooth crowns are dental crowns that are composed of porcelain applied to a zirconia substructure. Zirconia crown in Turkey offer an aesthetic alternative to traditional porcelain crowns, as they can be placed without metal support.
What is Monolithic Zirconia Crown ?
Zirconia crown come homogenous or multi-layed and the multi-layed style provides a more natural aesthetic in comparison to the solid uniform version due to its transparency similar to that of a natural tooth.
At Master Of Dent in Turkey, zirconia crown may be used without additional porcelain layers, though it typically lacks in aesthetics. Consequently, a combination of porcelain and zirconia is often preferred for aesthetic cases, as the zirconia base offers durability while the porcelain adds an appealing aesthetic finish.
How we made Zirconia Crown in Turkey?
Teeth being measured are done so under local anesthetic.
They are sent to a certified laboratory, where a CAD/CAM system is used for scanning and creating a 3D model of the future tooth. This information is then transferred to the dental milling machine.
The prosthesis is constructed with either ceramic or zirconia and painted in order to attain the requested hue. Final polishing ensures supportive fit and aesthetic appearance.
Computerized 3D Cad-Cam machines create a copy of the tooth which is used to produce zirconia crown in Turkey. This eliminates any errors caused by the "human factor". The crown created is perfect for the patient, and has an aesthetic advantage as well as a natural appearance. They are usually not noticeable unless specifically pointed out.
Zirconia crowns are an effective and durable option for repairing teeth, both in front and at the back. Their popularity is due to their outstanding biocompatibility, strength, and trustworthiness. Additionally, they can be customized with a tinted color for more authenticity.
Zirconia veneers appear very natural due to their light reflection and transparency. The outcome of this design will be a beautiful and natural smile that looks flawless from all angles and under any lighting.
With Hollywood Smiles and practice in design, desirable white smiles can be achieved. Zirconia coatings are biocompatible and do not cause food to become trapped between teeth or lead to unwanted odors. Additionally, these coatings will not change color over time.
Computer-Designed Zirconia crown
The dentist begins by preparing the teeth in need of treatment. They then carry out any necessary dental treatments or restorative work, followed by placing a temporary tooth. Accurate measurements are then taken using silicone material and are sent to a computer system for CAD CAM (computer-assisted design and computer-generated manufacturing) processing for the final zirconia coating.
The dental technician must be trained and knowledgeable to accurately enter the measurements of the thickness of the material, bonding gap and areas where it intersects with gum tissue into the program for a zirconia infrastructure design to be fabricated.
Monolithic zirconia is a computer-designed application in which the shape of the finished tooth is determined. Minimal polishing is necessary on the zirconia when it is placed in the mouth. However, we often favor porcelain-crafted results over monolithic zirconia crowns and bridges due to their aesthetic look.
What is the procedure for fitting a Zirconia Crown in Turkey?
Zirconia crown in Turkey require several visits to the dentist. During the initial consultation, the doctor will conduct an examination and discuss a treatment plan with the patient. If necessary, problem areas can be treated. Any infection should be treated prior to placement of zirconia crown and other preparatory treatments, such as dental fillings, gum treatments, or root canal treatments may be necessary.
Preparation for prosthetic teeth typically includes taking measurements and sealing the tooth with a temporary plastic tooth. For zirconia dentures, this process does not typically require significant erosion of the tooth. This allows patients to maintain their daily routines as they use temporary teeth during treatment.
At the next appointment, the finished zirconia product must be securely placed and glued to the tooth using dental adhesive. To ensure a successful bond, it is essential that the coating is properly adhered to the surface, is of a thin but durable build, and is not contaminated in any way.
The cost of zirconia crowns at Master Of Dent is based on various factors, such as the number of teeth needing to be treated and the chosen prosthetic option that best fits the patient. Key parameters influencing zirconia pricing should be considered.
A doctor's examination and X-ray.
The treatment plan should be analyzed and defined.
Measuring and preparing teeth with the use of computer generated images.
Adhering with glue.
In Turkey, zirconia crowns are affordable and reliable when obtained from Master Of Dent. Adopting good oral hygiene practices and following your dentist's advice for the choice of brush, paste, irrigator, and floss can ensure you maintain the effect of your zirconia crown indefinitely.
Zirconia Crown Price in UK:
Dental crowns usually range in price from £800 to £1,500.
Other types of crowns such as ceramics, metals, and porcelains generally cost less than zirconia crowns. The price can vary from £1,000 to £2,500 depending on the geographical location.
It is advisable to contact your insurance provider to determine their coverage in relation to the cost of a crown.
UK citizens can access the NHS website by following this link: https://www.nhs.uk/
Price For Zirconia Crown in Most Of Other Country's
The price of zirconia crowns can vary greatly depending on the country and region you are looking to purchase them in. In the US or EU for example, the cost of a single zirconia crown can range anywhere from $600 to 1000 USD, while in Canada they may cost upwards of $700 USD. It is important to do your research before making any purchases as prices can vary greatly between different locations.
How much does Zirconia Crown Cost in Turkey?
The cost of a Zirconia crown in Turkey ranges from 140£ to 200£. Additional services may be priced separately and are taken into account when estimating the total cost of treatment.
The price of dental zirconia is subject to various parameters. It may fluctuate depending on the brands and laboratory producing it. At Master Of Dent in Istanbul, we offer competitive prices for our products, along with excellent customer service. To find out more about zirconia prices in Istanbul, visit our clinic for an oral examination and X-ray. Once done, our experts will be able to provide you with suitable treatment options along with related prices.
Several factors can influence zirconia cost in Turkey:
The type of zirconia material and its origin country need to be specified.
The dental technician's and dentist's performance during the treatment process.
The total number of teeth needing treatment, fillings and root canal treatments needs to be determined.
The tooth requiring a new crown needs to be identified.
For information regarding cost and procedures, please contact our experts by phone or WhatsApp.
What type of cement is recommended for zirconia crown?
When it comes to cementing zirconia crowns, dual-cure resin cement is recommended. This type of cement is ideal for zirconia crowns because it ensures a strong bond between the crown and the tooth. It also provides superior marginal integrity, which helps maintain a tight seal that keeps bacteria from infiltrating around the edges of the crown. Additionally, dual-cure resin cement is readily available and relatively affordable.
When it comes to achieving the best results, proper care and maintenance are essential. This means brushing twice a day with a soft-bristled toothbrush and flossing at least once. Regular trips to the dentist will help ensure the crown is properly fitted and functioning as intended. Any changes in the fit or color of your crown should be discussed with your dentist immediately to determine if any
How long Does Zirconia Crown Last
With proper care, zirconia crowns can last up to 20 years or longer in some cases.
Zirconia crowns are an increasingly popular choice for dental restorations due to their durability and natural appearance. They can be used in a variety of situations, including replacing missing teeth or covering discolored or misshapen teeth. A zirconia crown is a ceramic material that is fabricated and placed on the top of a damaged tooth. It is made to resemble the natural tooth and is designed to last for many years.
Are Zirconia Crowns Good?
When it comes to crowns, many people want something that looks natural and lasts a long time. Zirconia crowns are an excellent choice for those who want a durable and aesthetic solution to their dental needs. These crowns are made from zirconium oxide, which is a strong and biocompatible material that can be used in various medical applications. Not only do zirconia crowns look natural, but they are also incredibly strong and will not easily break or chip. Additionally, the material is non-toxic and does not cause any adverse reactions.
Conclusion:
Zirconia crowns are an excellent choice for dental restoration. They are strong and durable, while still looking natural in appearance. The cost of zirconia crowns.
Contact Us if you want an estimation for your dental work in Turkey.
The Properties of Zirconia Dental Crowns.
Zirconia is used for dental aesthetics or treatments.
Dentistry refers to a "Zirconia Crown" as the visible, upper part of a tooth. Zirconia Crown are dental crown with porcelain processed using zirconia as their infrastructure material, which surrounds damaged teeth or replaces the upper part of a tooth. Zirconia crown provide an aesthetic look without metal supports, unlike traditional porcelain crown, which use metal support.
Dental bridges are used to replace missing teeth or teeth near the missing tooth, with porcelain bridges requiring metal support and zirconium bridges providing a metal-free alternative for an aesthetically pleasing smile design.
What are the benefits of using Zirconia dental bridges in Turkey?
Zirconia is the preferred material used in aesthetic dentistry for dental bridges as it can be used without metal and mimic natural tooth color.
Zirconia bridges demonstrate adequate strength for use in posterior molars and can serve as an alternative to metal bridges.
Zirconia has a natural appearance that is similar to that of teeth. Zirconia dental bridges may be difficult to differentiate from natural teeth due to their similar qualities.It is important for a person to understand the differences between these two to maintain good oral hygiene. Consequently, it can help provide a more natural looking smile for those who are missing at least one tooth.
Zirconia bridges provide a more aesthetically pleasing outcome than porcelain bridges. When taking photographs, opaque colors do not appear in zirconia bridges like they would with metal and porcelain bridges.
Zirconia full ceramic bridges are an allergen-free material.
Zirconia does not contribute to gum diseases.
Zirconia bridges are known for their resistance to plaque build-up due to the lack of gray layer formation around the tooth and gums. This makes them a great alternative to porcelain bridges.
Bruising of the gums, a common symptom associated with gum disease and gum recession, is not seen with zirconia.
Zirconia teeth provide insulation against sudden temperature changes, which reduces the risk of sensitivity.
Zirconia bridges are created from ceramic material, making them more lightweight than porcelains supported by metal.
Zirconia teeth are constructed entirely out of ceramic material, so they don't affect a patient's taste like metal-supported porcelains.
Light is the most important factor affecting the appearance of zirconia crowns. Natural teeth are translucent, allowing depth and vitality to appear in each tooth. Porcelain and zirconia crowns without metal substructures transmit light in a more natural way, creating a dental restoration with a life-like aesthetic. They offer an image closest to that of a natural tooth.
Our clinic uses zirconium crown bridge materials.
Get Free Consultation & Quotation
An E Max Crown is a type of dental crown commonly used for cosmetic dentistry. It is often used to restore broken and chipped teeth, to protect damaged teeth from further decay, and to improve the overall appearance of your smile. An E Max Crown uses CAD/CAM technology and ceramic materials that create dental crowns that look natural and blend in well with the rest of your teeth. The E Max Crown is also very durable, so it can last for many years with proper care. With an E Max Crown, you'll have an attractive smile that lasts!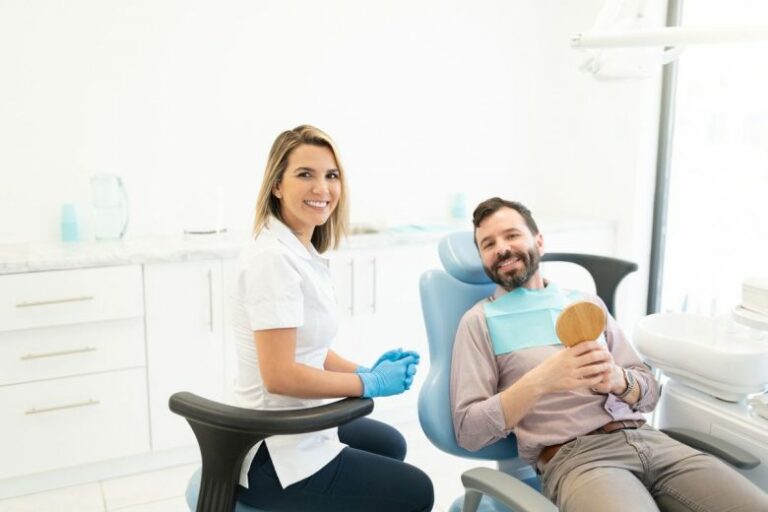 Get Your Free Online Consultation. Give us more details about your needs, so we can find the perfect dentist for you. Phone + 1 315
Read More »
Factual sentences referenced across top search results about zirconia crown:
External Links
Pages that search results are linking to (excluding internal links):